Stay in Cambria's..."Her Castle"* Homestay Bed and Breakfast Inn

*Not to be confused with Hearst Castle, six miles north. Go to HearstCastle.com for more information.
Cambria's Her Castle is a large, lovely home nestled in the woods of Cambria, California downtown and nearby famous Highway 1. Bill and Eleanor Seavey purchased it in 2004--our first guests stayed with us in mid-2005.
Ours is an absolutely stunning setting overlooking the surrounding hillsides--green in winter and spring, and amber in the summer and fall. Nature abounds nearby, with deer and raccoons visiting often. Dozens of species of birds frequent our decks seeking "handouts," including brightly plumed woodpeckers, doves, jays and sparrows. Monterey pines, redwoods and cypress grow within our small estate and provide shade cover and a tranquil scene.
Speaking of the estate, we have a virtual botanical garden which you are free to roam within and around--on several levels. Over a half dozen species of fruit trees (apple, lemon, grapefruit, orange and plum) grow on our sunny slopes. There is an almost infinite variety of shrubs and flowering plants, as well as desert yucca, cactus and succulents. Potted plants and custom muraling accent the gardens and home. While Her Castle is not grandiose, it is charming and serene, with modern conveniences-- yes, we have free dependable WiFi.
As a b&b, we offer a full sit down breakfast with a menu catering to your individual needs if at all practicable. (You can probably skip lunch!) Normally you will be able to interact with other guests besides your hosts Bill (a former small town relocation consultant who has written books on solar power, investing and affordable housing--see williamseavey.com), and Eleanor (a former family daycare provider/pre-school teacher in Orcutt, California and retail store owner). Bill and Eleanor moved here by way of Northern Santa Barbara County, Southern California, Ontario, Canada, and the Pacific Northwest.)
We know the area well and can help you with all your questions. (Try to stay here at least two days or more as there is easily 72 hours of things to do!) We will endeavor to help you economize on your trip if necessary -- for example, we know about the finest restaurants in town and where the best bargains are! Your hosts are tennis club members--if YOU play courts are less than a mile away, and we would love toplay with you. (Racquets available)
Thank you for your interest in Her Castle, a truly unique b&b experience on the gorgeous Central California Coast.
Your hosts,
Bill and Eleanor Seavey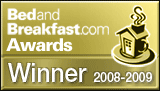 Awarded "Best of the West" (one of only TEN U.S. B&Bs so honored) based on the reviews of our guests at BedandBreakfast.com.
PLEASE NOTE: we are an entirely smoke-free establishment.